My garden. It is my haven, my sanctuary and my ultimate happy place. It provides me the opportunity to get out into the fresh air, a reason to get some well needed exercise and to thoroughly 'blow away the cobwebs' for three seasons every year.
There are a whole host of reasons as to why gardening is good for the soul:
1: It is bloody hard work. Every muscle aches after a long day digging, bending, stretching, pushing and lifting. It's a full body workout without the hefty price of a gym membership.
2: It brings out the designer in you, allowing your creative flair to be realised through plant selection, arrangement and positioning.
2: It teaches you to find the positives from the negatives. When every ten seeds you sow maybe only seven germinate, every sowing is a learning curve.
3: It most certainly teaches patience and gives time to reflect.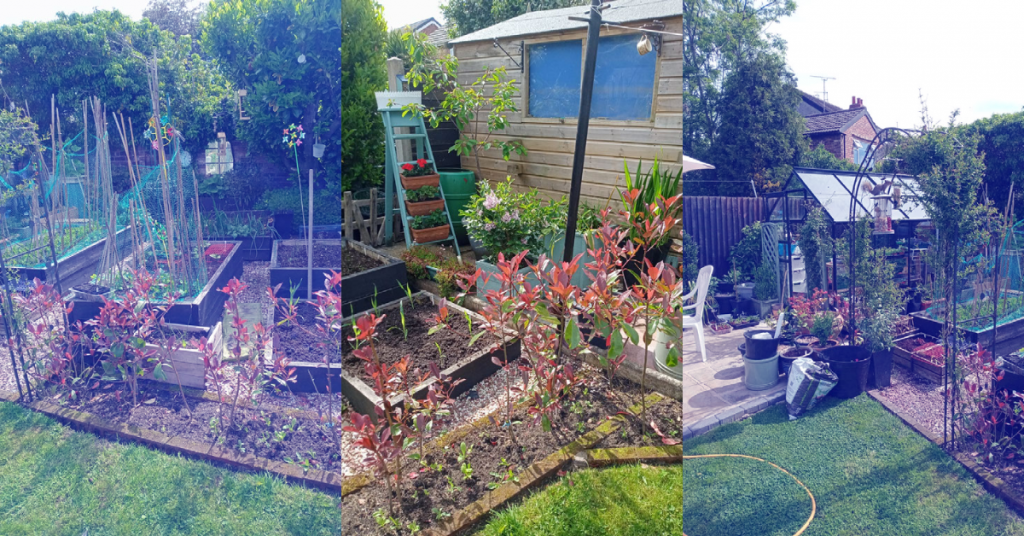 My total absorption in my garden also helps to dispel the strains and stresses that everyday life can bring. To sit at the end of a long day with a glass of wine, just basking in the sights and sounds of your surroundings is most cathartic. The bees buzz, the birds carry out their own individual birdsong and the squirrels make you smile when they tip upside down just for one morsel of peanut from a nearby bird feeder!
My enthusiasm for gardening (and the secondary exercise I get) emerged when I purchased a greenhouse. Suddenly here was a place that I could sow all my own flower seeds. I saved money (after having spent many years nearly bankrupting myself on annual bedding plants) and nurtured my body and mind at the same time. Two years ago, I took the tentative steps of growing a few vegetables. This was a total joy (well, not when the field mice and birds eat all your peas and mangetout, and you have to plant them all over again) and brought the fruits of my labour to the table in my kitchen.
This year I have expanded my repertoire and grown many different kinds of herbs too. This will save me a fortune on herbs like Coriander and as they grow you actually get the true taste of the herb and the smell is something else, rather than the wilted excuses that you buy from the supermarket.
I probably make lots of mistakes but it doesn't matter as there is nobody there to criticise you, as you are your own biggest critic anyway – but you learn and move on the following year you will have improved or moved or tried something else.
The last year has been difficult for everyone due to the pandemic. But through this many people have found new ways to take 'time out' and rebalance their lives. Some in the gym, others with their family and me… well I get both of those and more from my garden. The nation has produced a whole new generation of landscapers, veg growers, nature lovers and horticulturists who are indulging their newfound hobby by making us a greener and nature friendly nation.
If gardening was such a task, a chore, a bore, then why have so many turned to this as a form of recreation and exercise that benefits us in so many ways – we can't all be wrong, can we?!
Deborah Thomas – Our green-fingered, Office Manager (and fittest person at BEAM HQ)